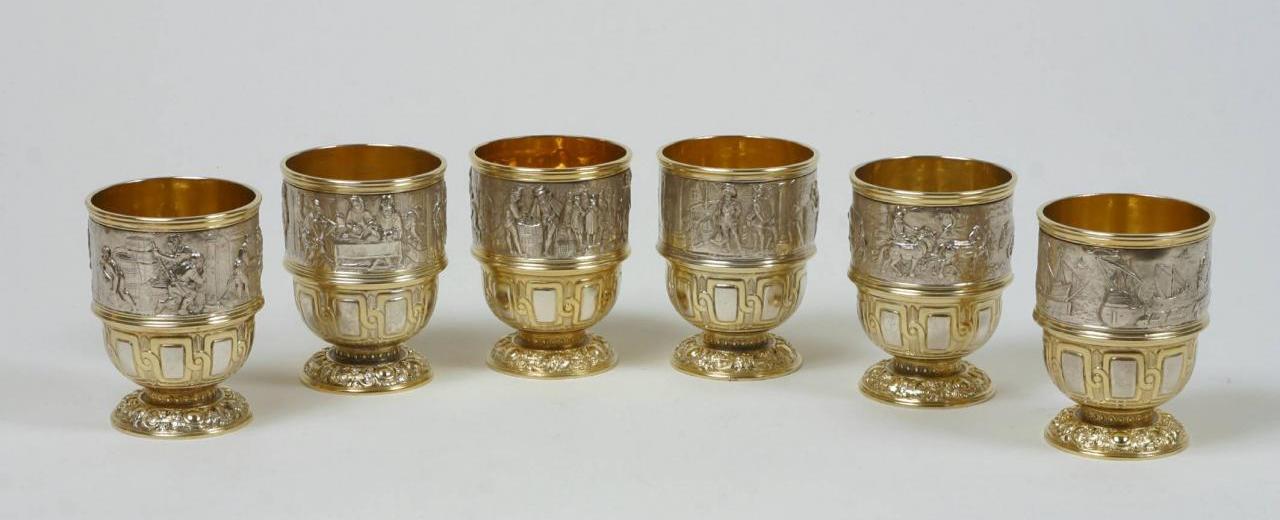 Collection – Ceramics, glass and metal
The many objects from the ceramics, glass and metal collections offer particularly good insights into the contexts of middle-class lives. They inform us about the style of their contemporaries and their need for works of art, which were mainly found in everyday use in Frankfurt .
Ceramics
The Ceramics Collection of the Historisches Museum Frankfurt includes earthenware, tiles, stoneware, majolica, faiences, porcelain and crockery. The majority of the collection is currently in the Depot. Quantitative and qualitative highlights include the Frankfurt faiences and Höchst porcelain. In 1956, collector Wilhelm Kratz provided the museum with over 800 Frankfurt faiences, whose shapes and paintings attest to the artistic blossoming of the Frankfurt faience manufactory in the 17th century. Around 1,800 Höchst faiences and porcelain document the great artistic significance of the Höchster Porzellan-Manufaktur in the 18th century. They are exhibited in the annex of the
Porzellan Museum Frankfurt
in Kronberger Haus.
Glass
The glass collection includes drinking and pouring vessels from the Late Middle Ages to the 20th century. The collection is dominated by Venetian, Bohemian and Silesian glasses from the 16th to the 18th century. As well as this, Biedermeier and Historicist glasses can also be seen in the permanent exhibition. The collection of older glasses is nearly complete in the HMF's Depot. This includes the "Große Willkommhumpen" of 1670, on which the Christoff family and Eva Baumann are depicted with their children. Next to the five sons, three children who died are also represented in white shrouds.
Metal
The Frankfurt gold and silver ironworks span from the 16th to the 20th century. They include profane tableware along with centrepieces and cutlery, liturgical utensils, guild pieces, trophies, candlesticks, book covers and writing sets. The large collection of Frankfurt city council silver is also stored at the museum. Highlights of the collection include the entirely maintained goldsmith workshop Gertenbach from Hanau and the master volume of Frankfurt goldsmiths, in which all Frankfurt goldsmiths are registered from 1624 to 1863.
The 340 works of the Frankfurt pewterers consist of all kinds of tableware – guild trophies, a liturgical device, ornamental plates, candlesticks, cutlery and pouring vessels – which were common in bourgeois society from the 16th century onwards. Many objects have come to the HMF from Frankfurt families and associations.