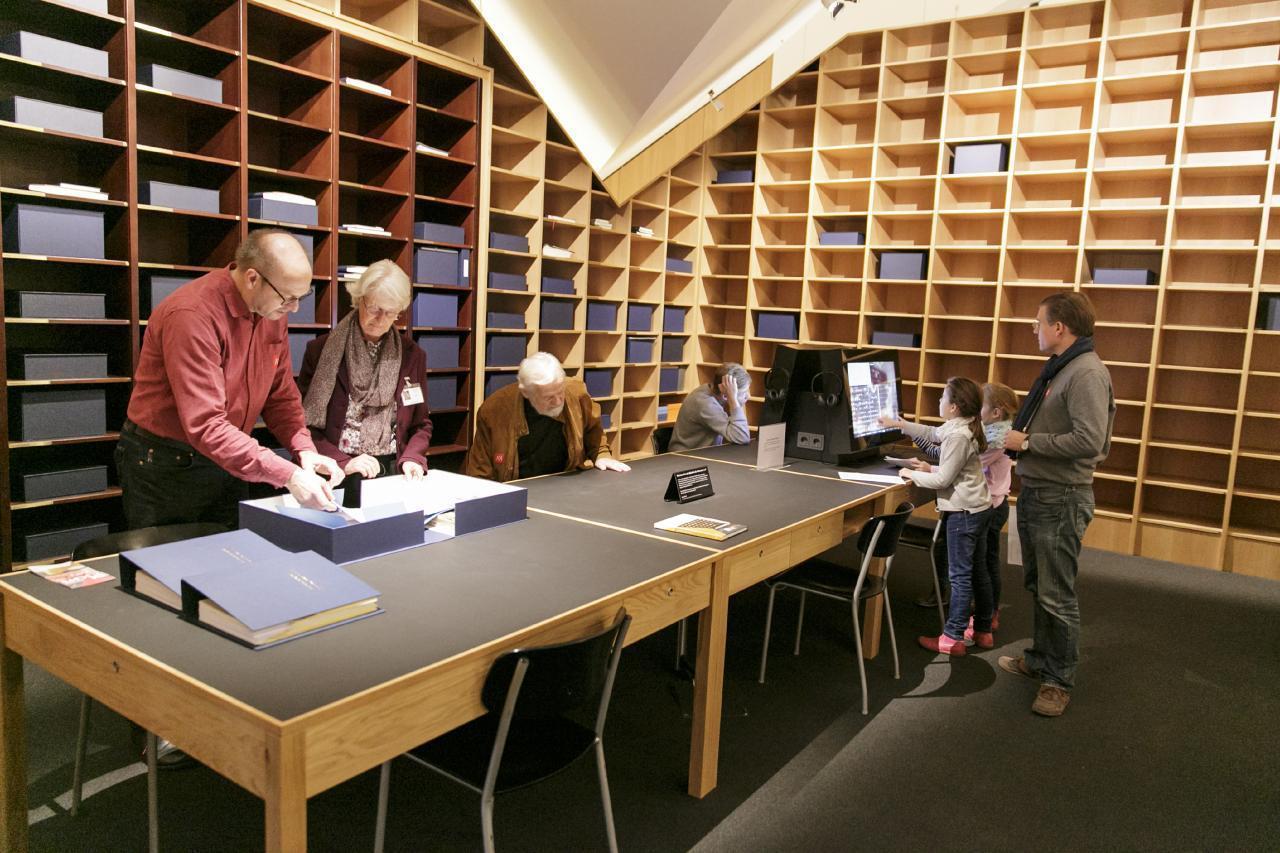 The Library of Generations (formerly Library of the Old) is an artistic memory project initiated by Sigrid Sigurdsson and filled with life through the efforts of more than 200 authors. With a duration of 105 years (2000-2105), the project is intergenerational.
The authors of the Library of Generations include individuals, institutions, groups and initiatives who write about many different topics. The contributions cover a broad spectrum, ranging from autobiographical works to artistic contributions and scientific presentations. Individual contributions or topics are presented in regularly held events. An overview provides information about the authors involved in the project.

Since 2004, the Library of Generations has been part of the permanent exhibition of the Historisches Museum Frankfurt. It is part of the work complex of Sigrid Sigurdsson's "Open Archives". In the meantime, more than 100 contributions have entered the Library of Generations: historical or biographical reflections, diaries and correspondence, objects and drawings, protocols, artistic and scientific contributions, as well as photographs, audio tapes, films and, increasingly, digital objects.
The concept of the Library of Generations
The Library of Generations was conceived around the special exhibition "The Memory of Art. History and Memory in Contemporary Art" (2000/2001). At that time, Sigrid Sigurdsson and the museum curator in charge, Kurt Wettengl, were looking for 100 people who were connected to the history of the city of Frankfurt am Main and who would produce a biographical, historical or scientific review of the past century. The concept stipulates that participants over 50 years of age have three years to prepare their contribution; those who are younger have up to 50 years. This also results in contributions that point to the future and reflect the beginning of the 21st century. Every year, two more authors are added. In the end, the Library of Generations will consist of 200 contributions and cover a period of more than 200 years of remembered history.

The aim of the project is to learn about the history of the city of Frankfurt am Main from different perspectives and to give future generations the opportunity to engage with the memories and reports of their elders. With the "Open Archives" Sigrid Sigurdsson opens up an opportunity to actively participate in a process of remembering. As experience shows, this can be the trigger for further discussions and processes that have a lasting influence on how a city deals with its own history.
Insights into the Library of Generations
Every Tuesday at 2.30 p.m., volunteers offer an "Insight into the Library of Generations": They provide information about the project and present a selected contribution each time. If you would like to view other contributions, you can contact the volunteers on site. If you would like to do research, please make an appointment via the visitor service.