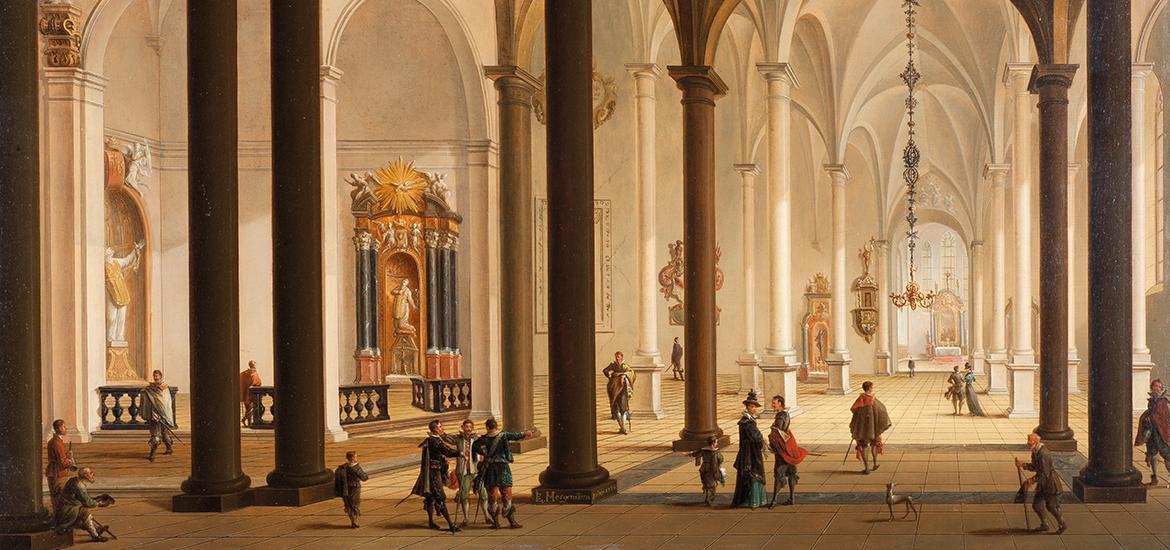 Masterpieces – On the Craft of Painting
The exhibition "Masterpiece" is devoted to a forgotten chapter in the history of art. When an aspiring painter of former times completed his training, he had to submit a piece of his making to the aldermen of the guild and/or the municipal officials for examination to attain the rank of master, hence "masterpiece". Until now, art history has tended to concern itself with the "masterpiece" in the sense of "an outstanding work", all too easily forgetting artists' roots in the crafts – a category from which they only managed to liberate themselves over the course of the nineteenth century.

The exhibition "Masterpieces" is now bringing all of the Historical Museum's masterpieces out of storage and embedding them in the social history of artists of the seventeenth to nineteenth centuries.
Andererseits empfanden die Maler die strengen Zunftordnungen und die zünftige Ausbildung als nicht zeitgemäß: Ihrer Meinung nach gehörte die Malerei nicht zu den mechanischen, sondern zu den freien Künsten. So thematisiert die Ausstellung ebenfalls die Entwicklung der Ausbildung von der Malerzunft zur Kunstakademie. Ab dem 16. Jahrhundert versammelten sich Maler in ihren Ateliers zu privaten Akademien, um nach Originalen oder Gipsabgüssen von Antiken und nach dem Akt zu zeichnen und um sich über theoretische Aspekte der Kunst zu unterhalten. In Deutschland übte der in Frankfurt geborene Maler Joachim von Sandrart d.Ä. einen großen Einfluss auf diese Entwicklung aus.

The exhibition will thus break new ground by providing insight into the painter's status as a guild craftsman, his rights and obligations as such, and the related concerns of the municipal authorities. Yet it will also enquire into painters' ambiguous relationship to their guild, from which they expected protection while at the same time, as "autonomous artists", seeking to liberate themselves from the constraints it placed on them. A further topic of interest in this context is the development of artists' training in the academies of the eighteenth and nineteenth centuries. And finally, the show will shed light on the conflicts between the various painters' guilds, but also between the guilds and the art academies.
The focus will be on the artists' status in guilds and academies,the conditions governing artistic training and production, and – for the first time – the social situation of the artist.

In cooperation with the University of Trier, Department Art History, Prof. Dr. Dr. Andreas Tacke and the Chamber of Handicrafts Frankfurt-Rhein-Main.


Supporters
Kulturfonds Frankfurt RheinMain
Ernst von Siemens Kunststiftung
Kulturstiftung der Länder
Cronstett- und Hynspergische evangelische Stiftung
Georg und Franziska Speyer'sche Hochschulstiftung
Rudolf-August Oetker-Stiftung
Stiftung Giersch
Sparkassen-Kulturstiftung Hessen-Thüringen
Handwerkskammer Frankfurt-Rhein-Main
Idea
Andreas Tacke

HMF Exhibition Office
Curator, Project director: Wolfgang P. Cilleßen
Contact: wolfgang.cillessen[at]stadt-frankfurt.de

Curatorial assistence: Aude-Line Schamschula, Danica Brenner
Contact: a.schamschula[at]stadt-frankfurt.de

Press and public relations: Karin Berrío
Kontakt: karin.berrio[at]stadt-frankfurt.de