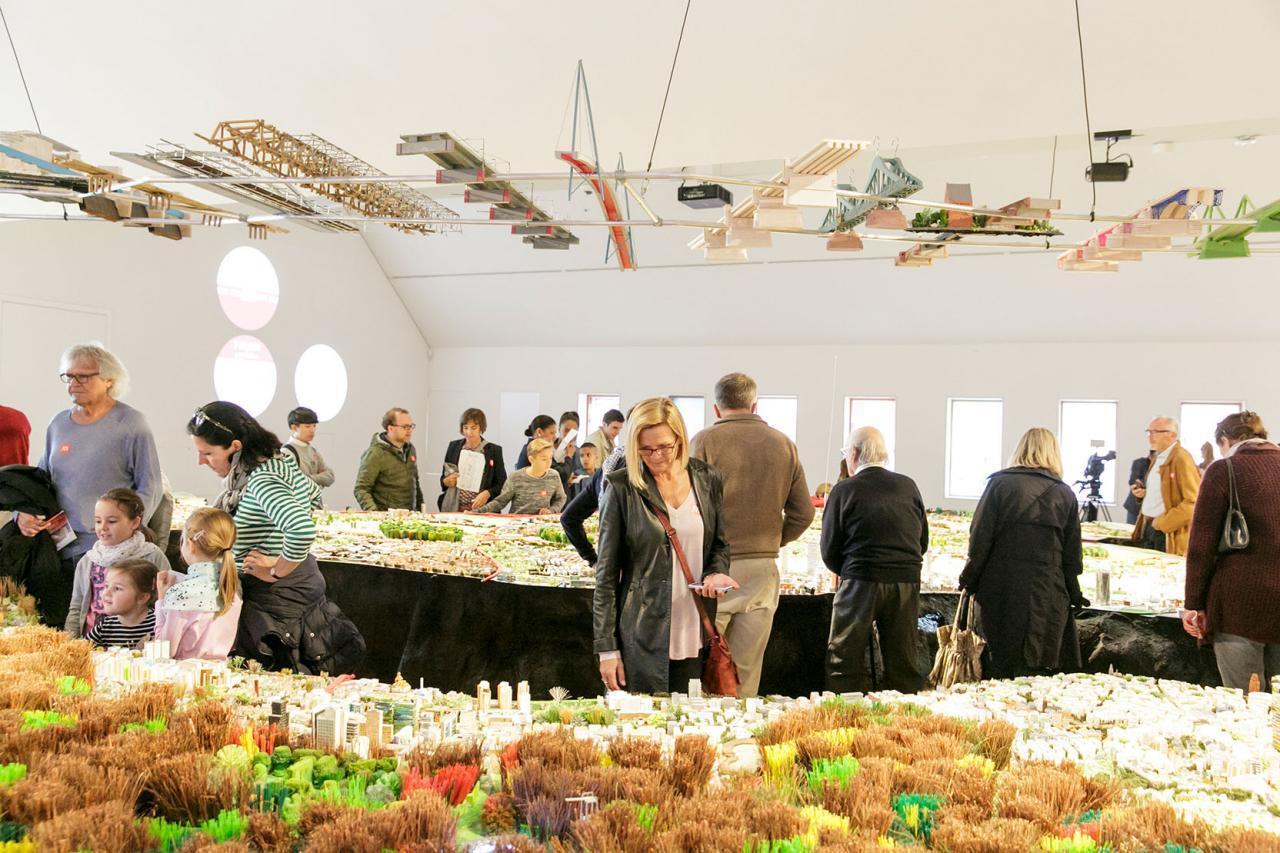 An artistic model of the city by over a thousand Frankfurters and Herman Helle
The over 70 sqm large Frankfurt model in the permanent exhibition shows the city as it was described by its inhabitants in 2015. The Historisches Museum asked 1,166 Frankfurters for their views on the city. It was about favorite places and non-places, about important landmarks, the diversity of the districts and their perception. The urban society is very diverse. That's why the opinions of Frankfurt's residents are often contradictory. In Frankfurt, village and city, skyscrapers and timber frames, urban development and greenery are all right next to each other. These opposites come together and surprising neighbourhoods come to light through the model's use of different media.
In spring 2016, the museum team handed over a thick package of material containing 42 portraits of the district and numerous illustrations and films to Dutch artist Herman Helle. Together with a team of twelve, he used them to create a vivid model that shows Frankfurt as an "experienced city". You can find out more about the creation of the model
here
.
In a large warehouse in Rotterdam, the model was gradually created: from everyday objects, found objects, packaging or other sometimes curious materials. For the Frankfurt city forest, e.g. brooms, shaving brushes and toilet brushes were used, the highway intersections are represented with colored climbing ropes. The industrial park in Höchst is represented by medicine packaging, and if you look very closely at the housing estates, you can see chandelier clips, Lego bricks, dices, sharpeners, toothbrush heads and much more. Remote controls, broken antennas and old cell phones represent the technical world of the airport, pieces of carpet, lace doilies and linoleum floor coverings symbolize fields and green spaces. The skyscraper of the European Central Bank is filled with shredded euro banknotes, Goethe University is made of books, and the prison in Preungesheim is depicted as a mousetrap. Many of the places that Frankfurt residents named as important for the model during the 2015 Summer tour can also be found in the model: the Green Sauce Monument in Oberrad, the old village church in Berkersheim, the waste-to-energy plant in Heddernheim and the racecourse that will have to make way for the DFB training center. A sound collage complements the model and provides the "sound image" typical of Frankfurt. Immediately after the opening, the Frankfurt model became one of the favorite objects of museum visitors.
Find out about the Frankfurt model in a film by clicking
here
.