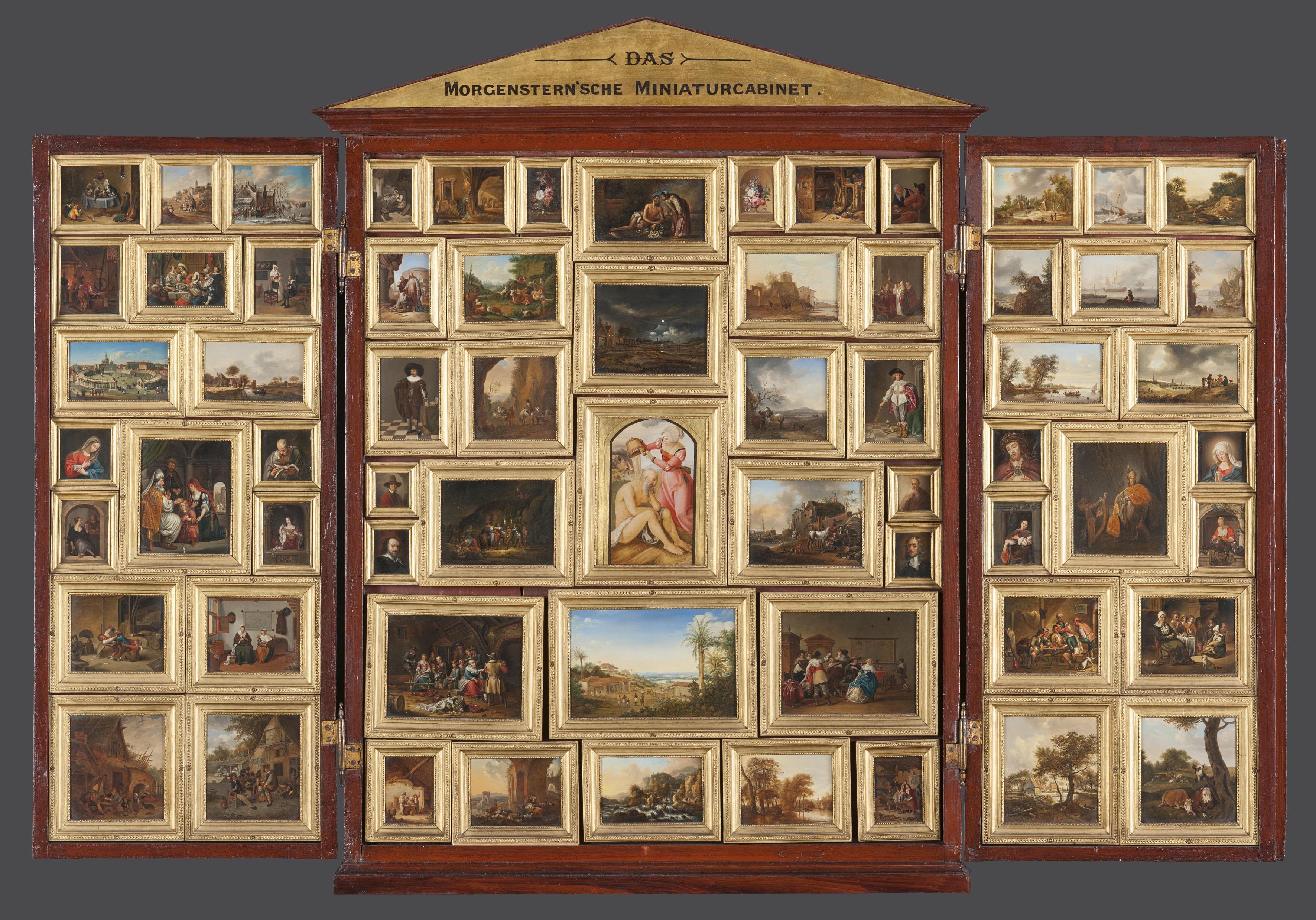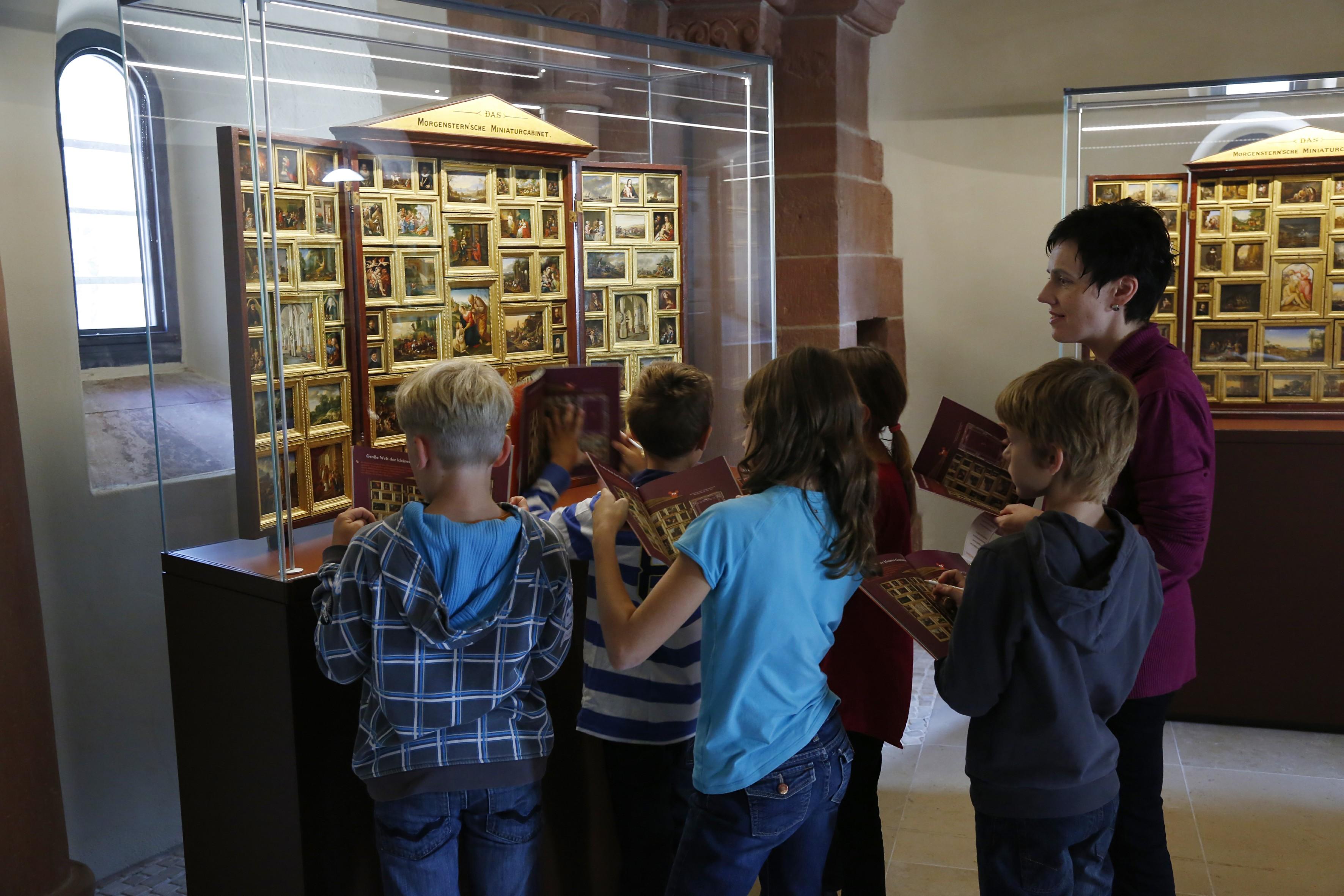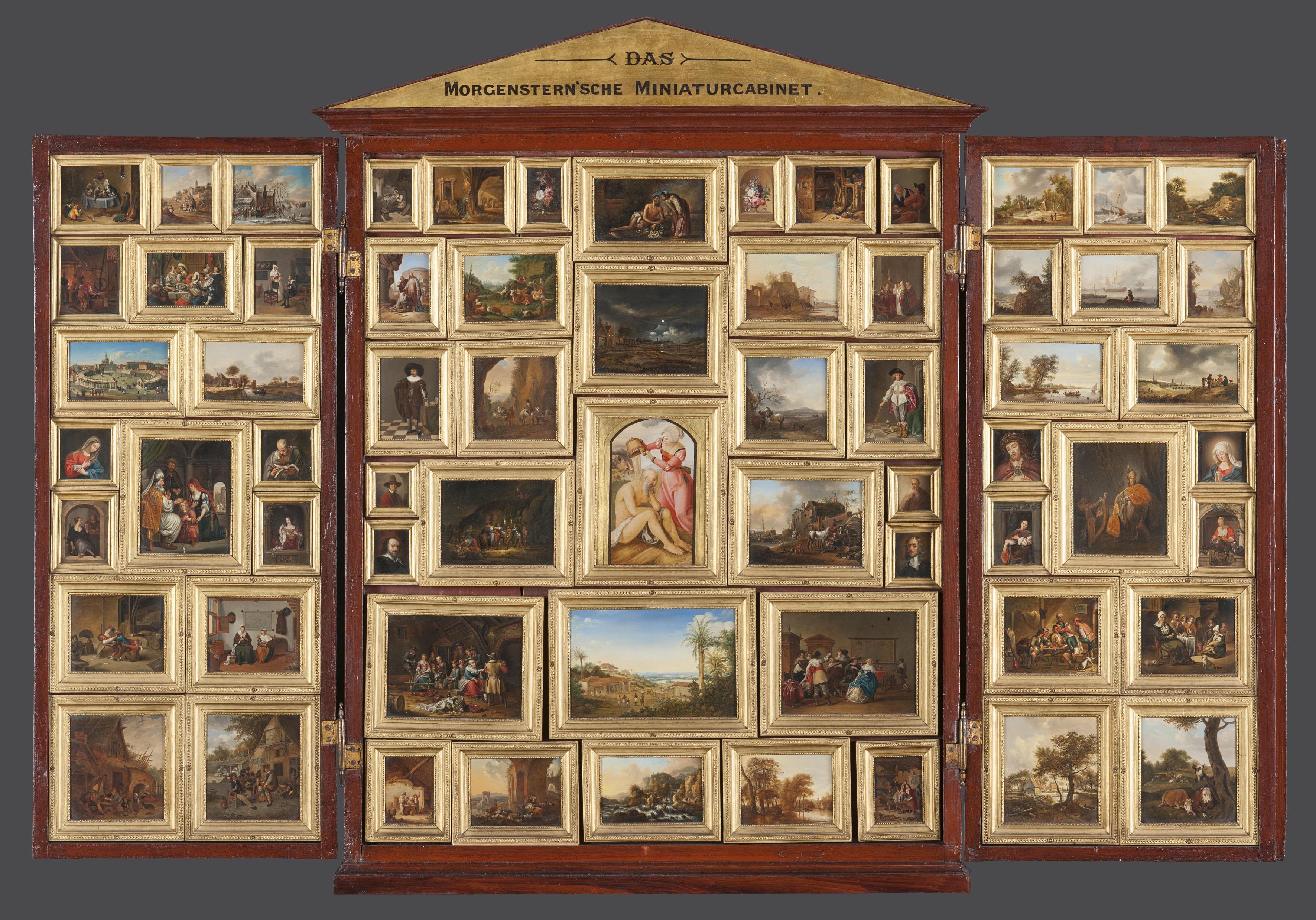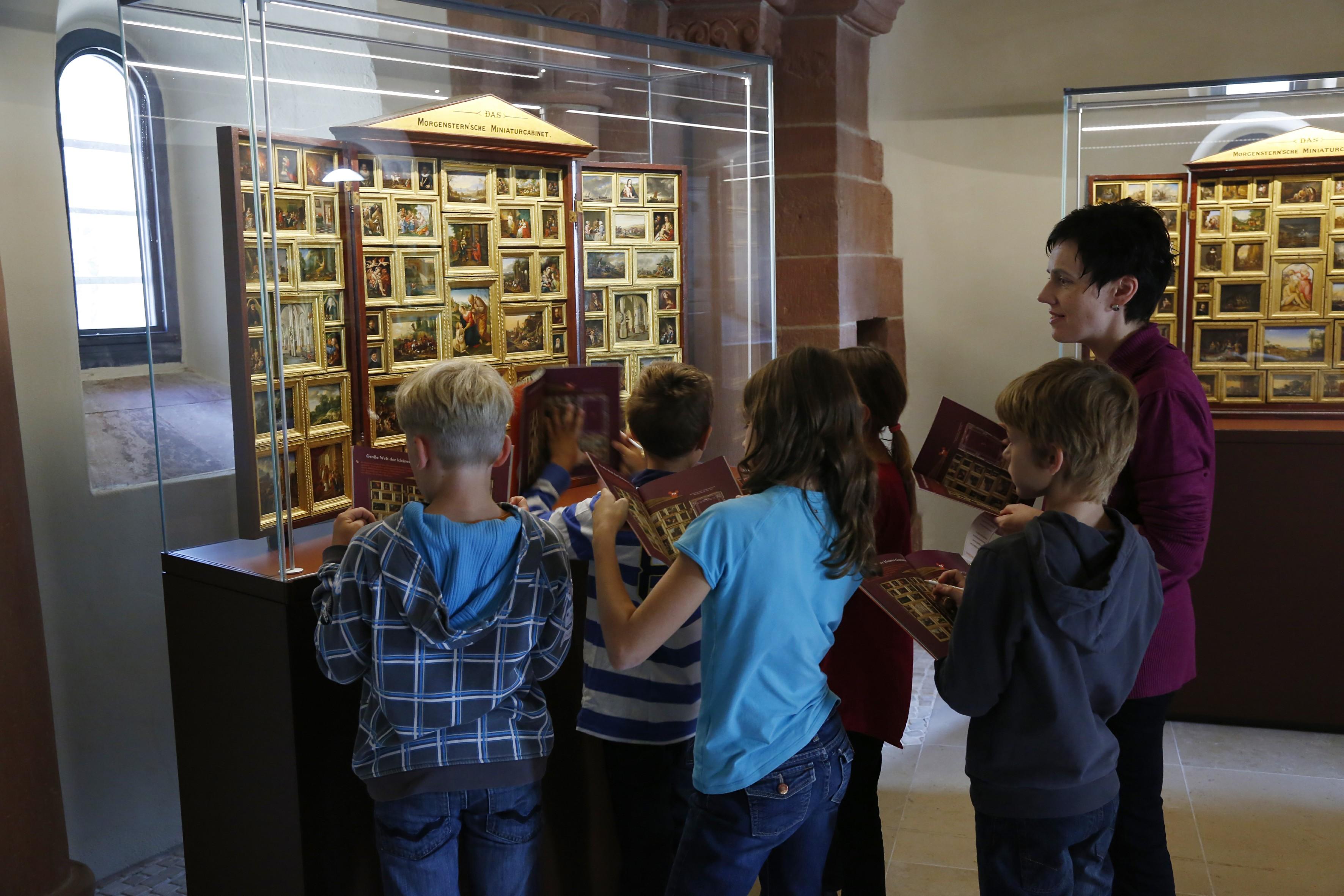 The cabinet of miniatures
The Morgenstern cabinet of miniatures (1796-1843)
Many artists collect all kinds of works of art – be it out of pure passion, as way to express their worship of other artists, as an aesthetic manifesto or for societal prestige .
This is why painter Johann Ludwig Ernst Morgenstern (1738-1819), his son Johann Friedrich Morgenstern (1777-1844) and his grandson Carl Morgenstern (1811-1893) also owned an extensive art collection. It included a very special attraction: "Das Morgenstern'sche Miniaturcabinet" (The Morgenstern cabinet of miniatures). This was written on the gables of three cabinets which came from the collection of the Morgensterns, a Frankfurt family of artists. The miniature gallery of paintings, originating from between 1798 and 1843, is an extraordinary testimony to the history of painting and restoration and is today exhibited as part of the permanent exhibition "Frankfurt Collectors and Donors" in the altar room of the Staufer tower in the Collector's Museum.
In 1798, Johann Ludwig Ernst made the serious decision –
as he himself wrote
–
to compile a collection of small copies produced by him in reduced scale according to the best originals of famous masters of antiquity, the Middle Ages and the modern era and to arrange them into three portable cabinets. He created over 150 miniature copies for the cabinet up until his death in 1821; after this, Johann Friedrich took over production and created a good 50 copies, but there is just one picture by his grandson Carl. As is typical for Frankfurt, the focus of the cabinet is on the Dutch painters of the Golden Age, the great role models of the Morgensterns and on their German successors of the 17th and 18th centuries. The family of painters fostered a particular preference for the landscape and genre paintings which had become more popular in Dutch art. Profane and sacred historical paintings make up a third extensive group.
Carl Morgenstern (or his mother) sold the cabinet miniature in 1857 to Frankfurt art dealer Anton Baer for 1,800 guilders, probably as a result of financial straits. Kronberg art dealer Uwe Opper was able to track down the cabinet in England, acquired it from two different owners in 1979/1980 and brought it back to Frankfurt. The middle cabinet came from the collection of Bethmann brothers' bank, who made it available to the Goethe-Museum on permanent loan. The city of Frankfurt purchased the two outer cabinets for the museum.
The Morgenstern family of painters
Johann Ludwig Ernst, Johann Friedrich and Carl Morgenstern
Johann Ludwig Ernst Morgenstern (1738-1819) was largely active in Frankfurt as a painter, copyist and restorer and as an art agent and dealer. After his schooling and years of travel, he settled down in Frankfurt in 1772. He obtained Frankfurt civil rights in 1776, delivered his masterpiece in the city hall and married Anna Maria Alleinz in the same year. As well as battle paintings and a few city vedute and prison interiors inspired by Rugendas and Wouwerman, his independent work mostly includes the Dutch-inspired church interiors which became his speciality. Johann Friedrich Morgenstern (1777-1819) was expected to tread in the footsteps of his father both as a restorer and an artist and also operated as an expert and author of auction catalogues. His work includes a series of landscapes from in and around Frankfurt, but mainly vedute and views of buildings in his home city. Grandson Carl Morgenstern (1811-1893), also born in Frankfurt, realised the dream of many German painters and visited Italy from 1834 to 1837 to study the art of the Old Masters. He made a name for himself as a landscape painter in Frankfurt, but worked very little as a restorer.